Episodes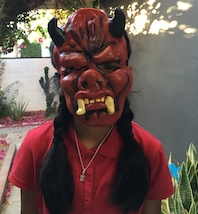 Tuesday Oct 31, 2017
Tuesday Oct 31, 2017
Can they investigate? You betcha! But can the team also spin a good auditory campfire story? You double betcha!  We took a break from our  Hydro Logic Series for some holiday fun.  The team's assignment was to take home our portable "reporter in a box" studio kits, come up with a spooky story and send it to me via dropbox so I could add some sound effects and produce the show. They sure entertained me! So here, for some Halloween Happy, we give you Ghosts, Witches and Owls, Oh My!   Bwahahahahahahahahahahahahahha!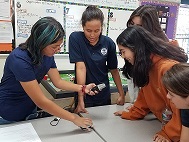 Wednesday Oct 18, 2017
Wednesday Oct 18, 2017
Last episode, Daniela Catalan, Angelica Benitez, Victoria Benitez and Cuicani Lopez explored water issues facing their generation. Now the team heads out to St. Euphrasia School in Granada Hills to learn how other kids are tackling the water issues.(Hint-big brains!) The Incredibots are competing in the First Lego League national competition. They must come up with and present a water solution for a water issue of their choosing and build lego robots to compete. ROBOTS!!!  In addition to furthering our exploration of the issue, this was a first for the Connectopod team in that they were interviewing other kids. Shy at first, the team quickly hit their stride.  Good luck, Incredibots!!! Tune in next week for our final episode in this serial as we interview Stella Hernandez, Industrial Designer and professor of desogn at USC and Art Center college of design in Pasadena. Connectopod will interview Stella about her work with water issues on an international level.    Love the show? There are so many ways you can support Connectopod!  Become a patron of Connectod, purchase your very own Connectopod t-shirt , or contribute to our Go Fund Me campaign today!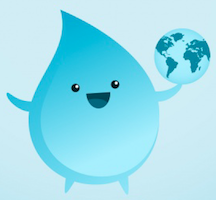 Monday Oct 02, 2017
Monday Oct 02, 2017
While  the Carribbean, Florida and Houston are underwater, water scarcity plagues places like Yemen and Australia. Yet places like Flint thirst (and Houston, Puerto Rico, San Joaquin) for non-toxic water. With so many water issues swirling around us, the team has decided to take a closer look. This is the first of a three part series we are calling:  Hydrologic. Part 1. Evaporate or Precipitate. Connectopod explores the water issues we face of too much or too little and what we might do about it.  Part 2. The Condensation of Ideas. The connectopod team interviews Mrs. Gonzales' 6th grade "Incredibots"  team competing in the national Lego Robotics Competition. They must design a solution for a water issue. Using robots!!!  Part 3: Collection. Designer Stella Hernandez created Safe Agua with fellow students at the Arts Center in Pasadena. Three years later, their design of  a water collection system is in use in economically challenged communities in Colombia, Peru and Central California. She teaches the design at USC. Safe Agua has been exhibited at the Museum of Natural History in NY and the Smithsonian in Washington DC. And Connectopod gets to interview her!